"You were sorta punk rock, I grew up on hip hop" -Lana Del Rey, Blue Jeans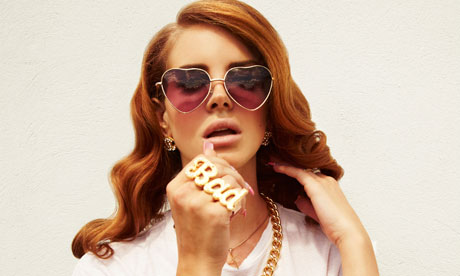 When creating Screw Yourself I wanted something unique and striking. I wanted it to be industrial, heavy metal, a little bit steam punk, as well as simple.
I am not alone in blending styles and certainly not the first to do it. When anything floats between boundaries, in that undefined, unnamed space, I am drawn to it. Music, art, literature, design, film etc.
My most recent find of a true boundary blending artist has allowed me to spend many hours in inspirational bliss. Her lyrics are unmatched amongst her counterparts, her presence is fresh and lovely. She's like a classy 40's star with swagger. She's Lana Del Rey.
I sing the National Anthem,
While I'm standing,
Over your body,
Hold you like a python.
As this brilliant article puts it, you want their love to be real. The video is engrossing beyond reason because it's romance and we all want more in our lives. If at all comforting, A$AP and Lana must like each other at least a little since they have continued to collaborate…but I am still left feeling empty once I drift back into the reality where they don't have adorable children and where Lana isn't both Marilyn and Jackie.
I tell you all the time
Heaven is a place on earth with you
Tell me all the things you want to do
I heard that you like the bad girls
Honey, is that true?
It's better than I ever even knew
They say that the world was built for two
Only worth living if somebody is loving you
Baby, now you do
Lana, you are a true artist. Keep it up. Loving the melancholy, loving the class, loving the swag. Evolve, but never change.